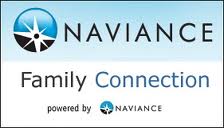 Naviance/Family Connection is a web-based software program used by Pine View Guidance/College Resource Office to manage the college application process.  It is a comprehensive tool that enables students to explore careers and colleges and become actively involved in the college planning process.   Through it we are able to share important information with you about upcoming events, local scholarship opportunities, and other college-related information.   Beginning in the Spring of your Junior year, Naviance/Family Connection will become a critical tool in the college application process as it is the platform from which all college application materials are assembled and electronically delivered to college and universities.
Parents and students may each have their own "log in" for Naviance/Family Connection and can use the program independently.
The Naviance/Family Connection Site Map provides an overview of how to use the site.  Upon log-in you will see five subject tabs across the top used to navigate to specific areas: Courses, Colleges, Careers, About Me, and My Planner.  Feel free to explore.  You may also access Naviance Test Prep an online SAT and ACT test preparation program available free of charge to Pine View students (thanks to the generous support of PVA).
Accessing Naviance/Family Connection
Click on the Naviance Login button at top of this page or link directly to the Family Connection Log-In.   For Students:  Your N#  is your log-in/user name.  Your school assigned PIN is your password.
Once logged in navigate to About Me and Update your Profile including current contact information.  Use the email address you are most likely to check.  Please also include parent information (email addresses).  This will allow notifications to reach them as well, and allow them the opportunity to register.  Important information will be sent to you during the college selection and application process.
FAQs about Naviance/Family Connection
Are parent and student views of the site the same?
They are very similar. Information on searching for schools and scholarships is the same. There are some differences, as follows:
About Me: Goals, About Me: Resume and About Me: Game Plan are different.  Only students can add/delete goals or change a resume.  Parents may only view this information
About Me: Journal is for the student's private use.  Students choose who can view the journal: parents, counselor or no one.
Colleges I'm applying to is for student use only.  Parents can view colleges to Colleges I'm applying to, but cannot add or delete.  Only students have access to their college applications on Family Connection.

What are the top 7 ways to use Naviance/Family Connection in the College Search Process?
View Scattergrams to determine how your student's GPA and test scores compare to other Pine View students who applied to the colleges you're looking at. The Scattergrams tab is located under the Colleges tab.
Access and use Naviance Test Prep in advance of the SAT and/or ACT.
Use the SuperMatch College search or College search to find schools that meet your criteria. The programs are laid out differently but do the same thing.
Enter all of the schools in which they have interest into their Naviance/Family Connection account under the Colleges I'm thinking about. This will allow us to support and alert you to information related to your schools.
Use College compare to compare your test scores and GPA with several schools at once.
View the My personality type assessment tool to determine how your student's personality is connected to potential majors and career clusters (related careers).